Scenario
You've set up your Speaker (or have been set up as a Speaker and have received your login link to access your dashboard). It's now time to add a bio.
Quick Start
If you're an Event Organizer, Team Member or Host:
Head to Content > Speakers
Click on the three dots (...) next to the Speaker of your choice.
Click on Additional Info.
If you're a Speaker who received their Speaker Dashboard login email:
Head to your Speaker Dashboard.
Click on the Edit My Speaker Details button. If you don't see this, your Event Organizer has not enabled Speaker access to this area.
To edit your bio:
Type or copy and paste what you like into the Bio field.
To use the rich text editor, highlight what you've written. For example, you can italicize: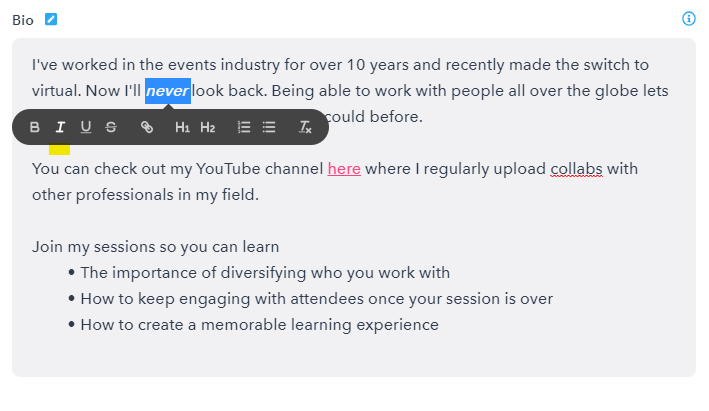 Hyperlink: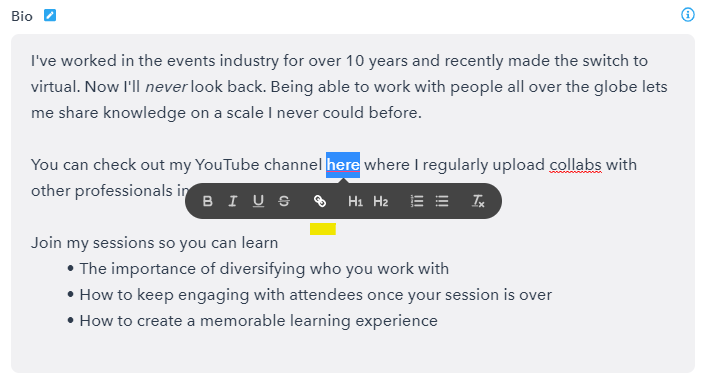 Or use bullet points:

You can also bold, underline, use headers, create a numbered list and clear formatting.
Don't forget to press Save when you're done.
You're all set.