Scenario
When looking at your attendee statistics chart under Activity & Reporting > Attendees, you can see that some of your attendees have "registered" but don't seem to have completed their order. Or maybe you're looking at the number under Content > Talks next to a session but when you click on it, you see another number listed. Read on to find out more.
Quick Start
If you're looking under Content > Talks, you'll see the total number of people who have registered for that talk and have secured a ticket.

But if you click on that number, you may see a different figure at the top of the list of attendees registered for that talk. That's because this is a complete list of people, ticket-holding or not, that have registered for the session by adding it to their schedule.
Here's some more info on attendee statuses.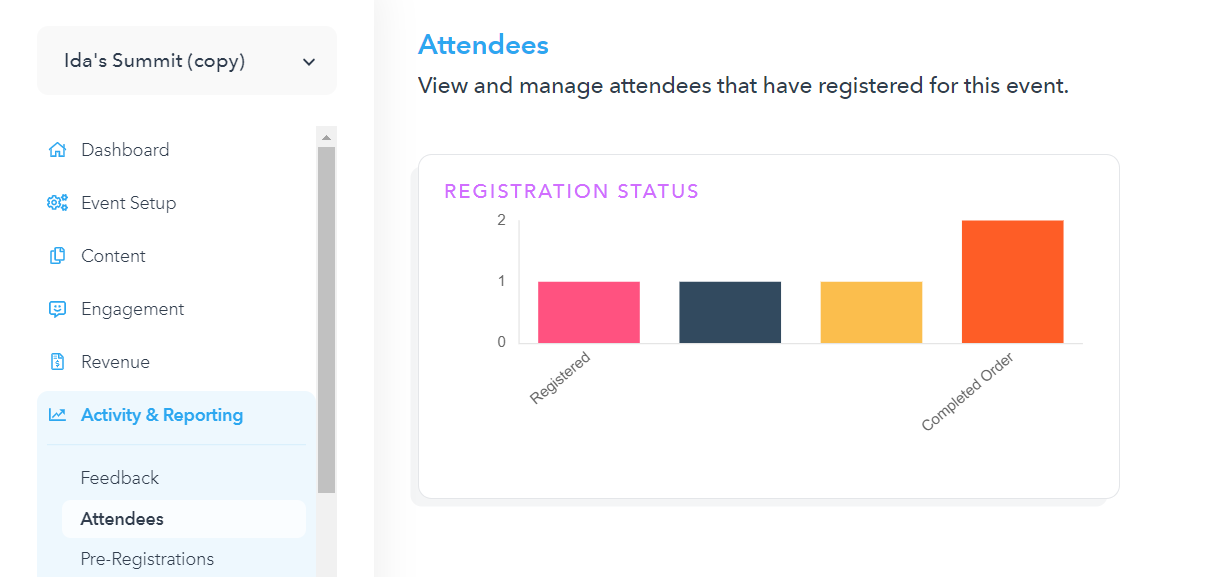 Let's start by unpacking everything in the chart above. Basically, it's showing that lots of people have Completed order- this means they've registered, chosen their sessions and completed the transaction by purchasing a ticket.


Registered means your potential attendee has entered an email address in the first Book Your Place box. In other words, they have registered and will receive email reminders for this talk. We have their email address, but they haven't completed their order yet. Maybe they need a little friendly nudge - a giveaway, perhaps?


Once an attendee has completed a ticket purchase, they move from the Registered column to the Completed column and have everything they need to attend your event!



The two other columns in the chart refer to:
Checkout - Selected Ticket (yellow in the chart above): They've registered and chosen a ticket (as part of the checkout cart), but haven't gone on to complete the order yet.
Checkout - Selected Content (dark blue in the chart above): They have selected tickets and also selected content, but they haven't completed the order yet.
Looking for a list of attendees who completed registration and secured a ticket? Head to Revenue > Ticket Sales.


Top tip: if an attendee contacts you to say they have a ticket but can't see your sessions, it's possible that they haven't completed the purchase process. You can check where an attendee is in the checkout process by searching for them in the table in Activity & Reporting > Attendees.

Under Status, you'll see where they are in the process. Under date, you'll see when they tried to purchase their ticket!
Connecting to third party applications
This chart is designed to help determine the status of your attendees and make it possible to tailor your Zaps with Zapier to integrate your attendees to your third-party applications. Each of these stages of the registration process can be turned into a Zap and used to inform your strategy.
Top Tip: Now that you've got a sense of what the numbers mean, you can better tailor your efforts to turn the Registered attendees into Completed attendees, while also thinking about what worked best in the promotion of your event. If you're feeling overwhelmed, do remember that help is just one click away with HeySummit Professional Services to help make sure your summit reaches its full potential. Happy summiting!