Scenario
After putting in so much work to make your event a success, the last thing you want is any issues for attendees on the day - but sometimes these things happen, and it's important to know what to do. Read on to learn about the most common attendee issues and how to fix them quickly to ensure your event is a hit for everyone.
Quick Start

My attendee isn't logged in
Is your attendee having issues using their login link? Please click here to read how to do this.
To quickly test if your attendee is logged in, ask them to click on the three dots next to your header titles. If they are not logged in, the Login button will appear. If they are logged in, the drop-down menu will appear as follows:

If your attendees need to log in and they are having issues locating the Login Page for your event, you can always send them the link.
To get to the Login Page of your Summit, you open an Incognito Window and click on the three dots (...) at the top, then click on Login. Copy the address that is on the URL bar and send it to your attendees. You can then instruct your attendees to simply enter the email address that is connected to their account under the 'I'm an attendee' section (see screenshot below). No password is needed for an attendee to login.
Top Tip: Notice the highlighted link in the address bar (see Screenshot below) - the address for your Summit login page will look similar to what you can see below.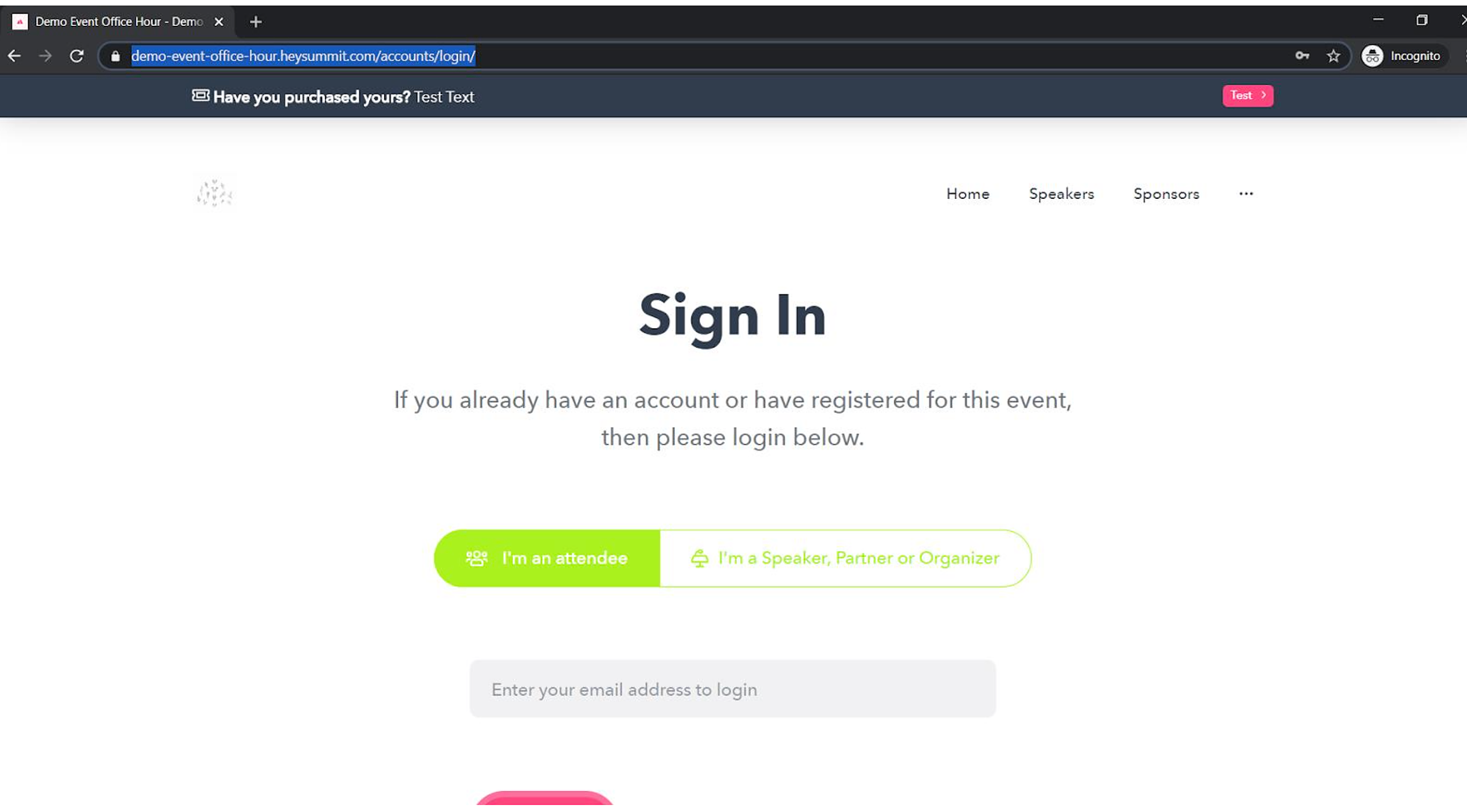 My attendee's email address is wrong when they try to log in
One other issue that could arise when attendees are trying to log in would be if they use an incorrect email address (see Screenshot below, for an example of the error).
It is worth checking to make sure your attendee is using the email address registered within HeySummit - they may have a typographical error in the email they signed up with, or be using a different email address entirely.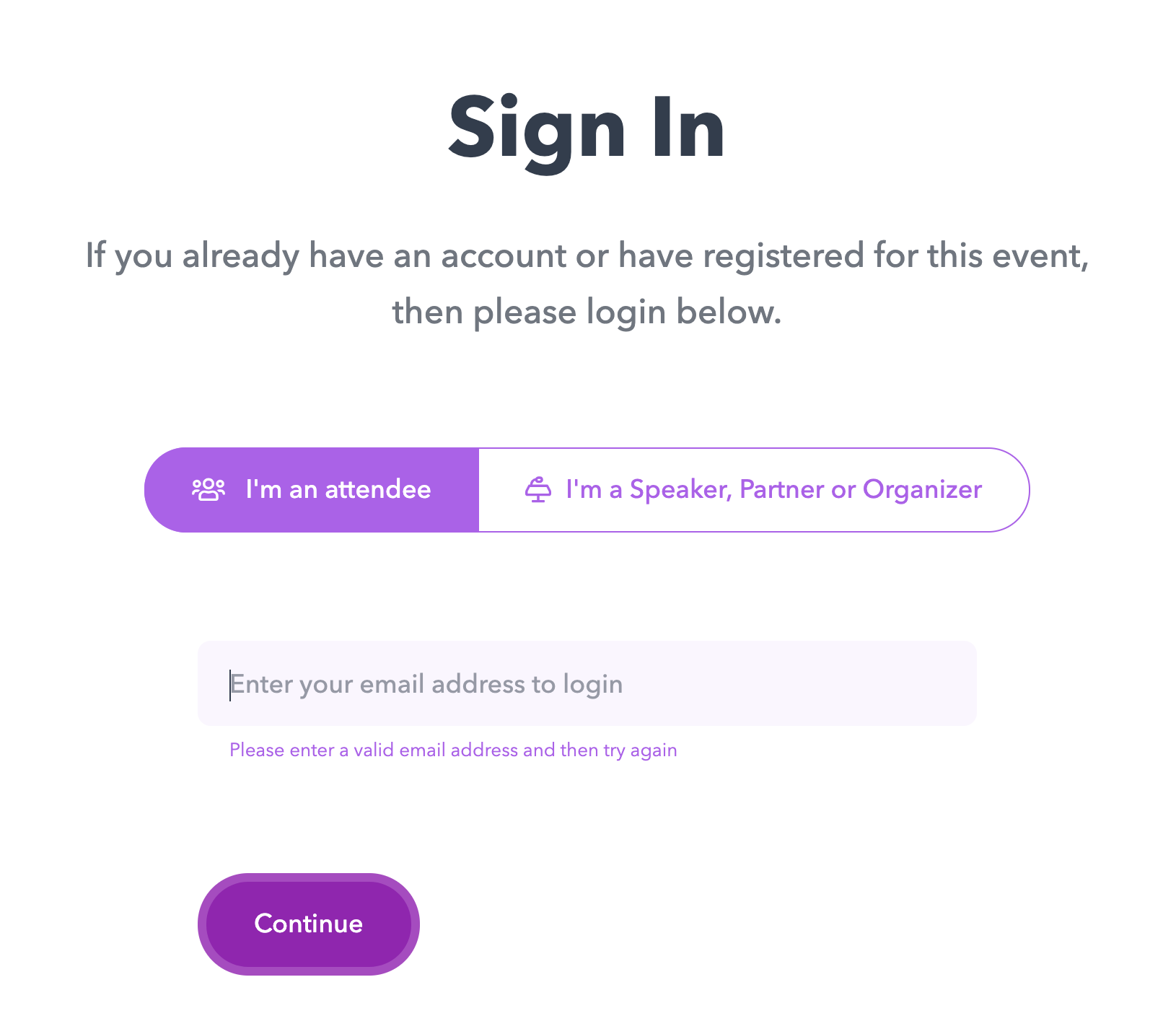 My attendee is logged in but they cannot access the content
The most important thing is to remember is that mistakes sometimes happen and attendees might not realise that they have not fully registered for the event. Let's talk about the two scenarios that might have happened:
Your attendee hasn't got a ticket for the event (they don't have an Order Status of 'Completed Order')
Sometimes attendees drop off during the check-out process which means that they don't have tickets, but they might still receive emails reminding them of the event (since they have opted in by entering their email address and Registering).
You can check out all your Attendees' statuses by clicking on Reporting > Attendees. You can always export the CSV file and search the resulting document for any attendee's email address. You can also use the search box that you can find on the HeySummit page.
You should always check and make sure that the attendee status associated with your attendee's email is Completed order. People that have Registered, Check-out: Selected Ticket or Check-out: Selected Content as their status wouldn't be able to access your content. For more information about the different attendee statuses, you can check out this helpful article here.
To solve this issue, you can tell your attendee to purchase a ticket, or you can import them into a ticket to allow access. If you are not sure about how to import attendees, you can find more information about how to do this here.
Your attendee has a 'Completed Order' Status but it seems that their ticket isn't giving them access
If your attendee has a Completed Order status, but they claim that they can't see content (check out the screenshot below for what an error would look like if they don't have access to that content), it might be that their ticket permissions are not what they should be.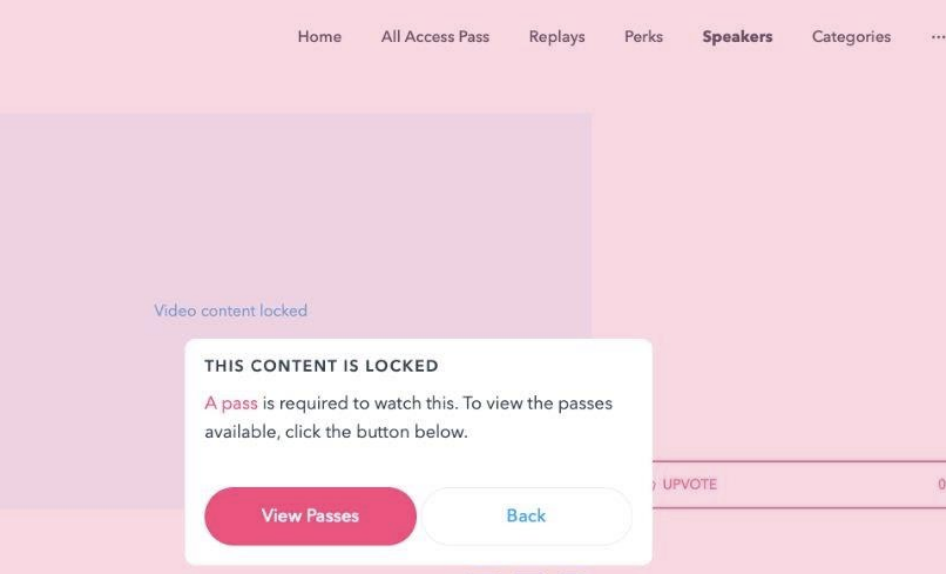 Your attendee could either:
a. Have a ticket with improper permissions
Your attendee is logged in and owns a ticket, however, that ticket doesn't include access to the content they are trying to view. This could happen if your attendees are trying to access Premium Content with a Free Pass, for example.
b. They are in the possession of a ticket with old permissions
This could happen if you changed the ticket permissions and you didn't sync the changes to all purchases. Changes you make to tickets aren't automatically synced if you un-ticked the 'Synchronise after save?' option (see screenshot below).
If you don't synchronise your changes to all tickets, only new attendees (those who purchase the ticket after you had made changes) would be in possession of the most up-to-date permissions.
Here's how to troubleshoot both ticket mix-up scenarios:
a. Check that your attendee actually has the correct ticket.
You can check what ticket your attendee has by going to Revenue > Ticket Sales and exporting a CSV file of anyone who has purchased a ticket. You can then search the CSV document for the attendee email address and see what ticket and what access they have. If they do not have the right access, you can tell them that they would have to upgrade to another ticket.
b. Syncing your permissions to all Ticket purchases
If they have the right ticket, but they still can't access the content, it might mean that their ticket has old permissions active (so they bought the ticket before you made changes to the present ticket). To solve this issue you should select 'Sync Settings to Purchases' (see Screenshot below).
i. Note that the numbers under Revenue > Ticket Sales might differ from what you see under Reporting > Attendees since the ticket sales reports only gather people who have purchased tickets (aka whose statuses are Completed order).
ii. Note that people might get the 'You need a Pass' error shown above if they are not logged in as well, so the first step is always to check if your attendees are logged in, with the correct email.
My attendee is seeing a 'Video Content is on its Way' error
Your attendee shouldn't be seeing this error if everything is set up correctly in your HeySummit dashboard (under Content > Talks). Prior to the event, make sure that all talks have a video added to their individual Video Settings (under Content > Talks). You will have to ensure each of your talks is set up correctly. You can preview any of your pre-recorded content by clicking on Preview Public Page.
If your attendee is saying that they are trying to access a Replay but see a message saying the content is on the way (see error below), you will want to check if you have a Replay for each session set-up under Content > Talks > Replay Details.
Note that the Video Settings option disappears once the Session goes live and is replaced with the Replay Details option.
i. This is particularly important for people who use our Live Session delivery methods (e.g. Zoom Webinar, LiveWebinar, or anything that can be entered under our Custom Stream option) since this would mean you would have to add your own recording of the live session. This article on how to add a Replay might be useful if you are confused.
ii. If you use a Pre-recorded delivery method, you don't have to add anything else in the Replay field.
My attendee can't complete their order and they keep getting an error on the final page. They have answered all the registration questions I set up what should I do?
It sounds like your attendees have not accepted the terms and conditions on the last page of the Checkout Process. Some attendees don't scroll to the bottom of the page, which means that they have missed the T&Cs agreement.
Ask them to make sure they're selecting the checkbox that says they agree to the terms. If they cannot see this checkbox, ask them to open the registration in an incognito window and try again to avoid caching issues.
My attendee isn't able to pay - what should I do?
If your attendee is having difficulties with payment, you should ask them what card type they are trying to use. At the moment (if you use HeySummit's Payment Processor), you will only be able to accept Visa, MasterCard, and American Express cards.
If your attendees can't use another card type, you could suggest that they use PayPal, as that way the card type would not matter anymore.