Summary
After putting in so much work to make your live event a success, the last thing you want is for attendees to be unable to see your video replays. Below we will cover the most common issues with replays and how to fix them quickly so your event video replays are a hit for everyone.
1. Are they logged in?
Users might see the 'You need a Pass' error when they try to access sessions if they aren't logged in, so the first step is always to check if your attendees are logged in with the correct email.
2. Do they have a ticket?
You'll want to find out which ticket your attendees who are having trouble have purchased. You can do this by finding them in Revenue > Ticket Sales, then searching for their name or email address. When you've found them, you can see the ticket they purchased.
If you can't see them under Revenue > Ticket Sales, it may be that they never completed their order and don't actually hold a ticket. Head to Activity & Reporting > Attendees to check. Check out this help doc for some more help on understanding registration status.
3. Do your ticket permissions apply to Replays?
Ticket permissions are the most common issue when it comes to Replay access. The first thing to check is whether the attendee's ticket applies to Replays. On your dashboard go to Revenue > Tickets. Select the ticket you created and navigate to the three dots (...) > Edit Record. If the box Apply To Replays? is checked, they have access to Replays.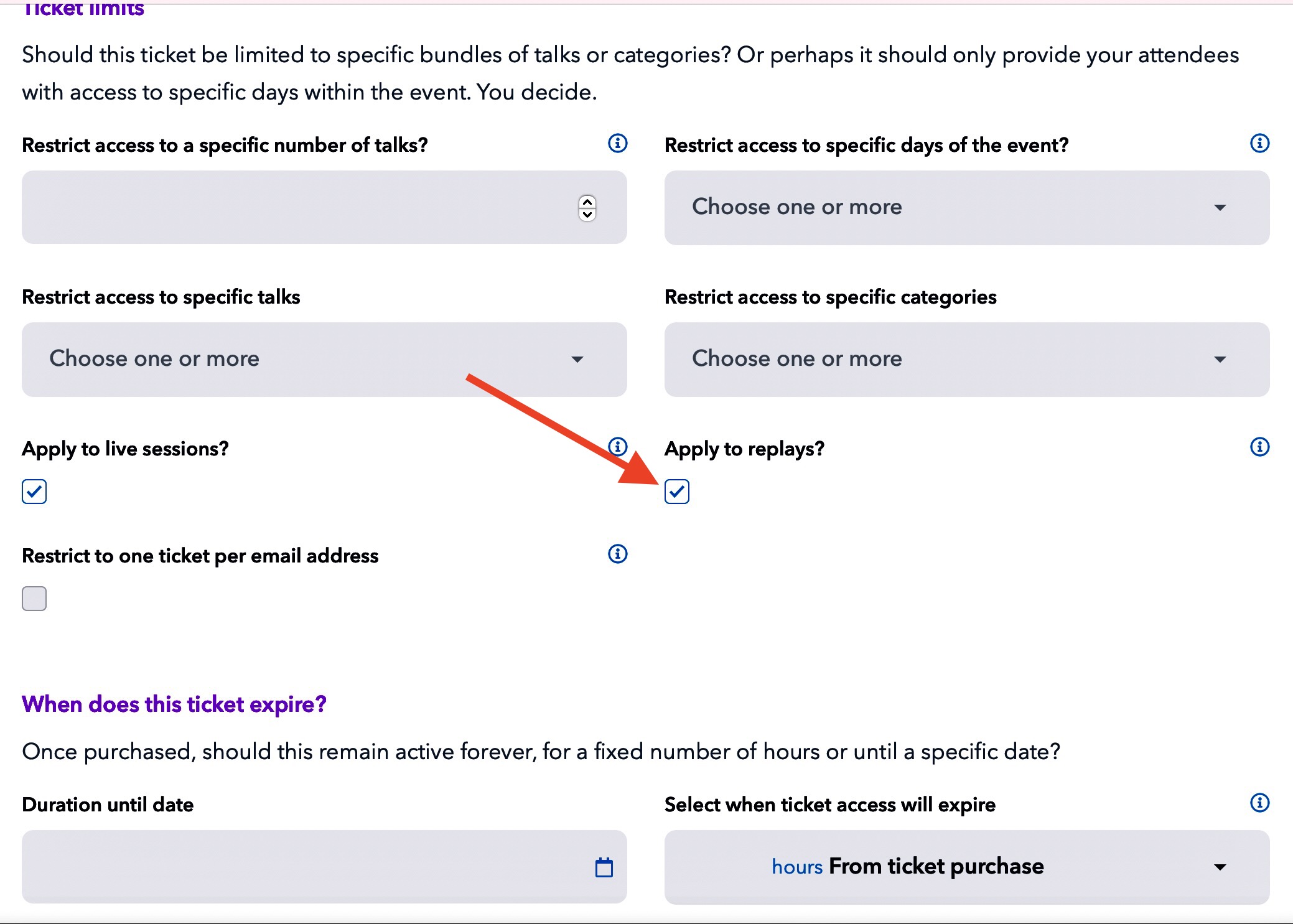 4. Does the ticket apply to the session?
If the ticket does apply to replays, another possibility is that your ticket restrictions don't apply to the session that the attendees are trying to access. The following settings might apply here:
a. Restrict access to a specific number of talks - the session may go over the attendee's permitted number of talks.
b. Restrict access to specific days of the event - the session may fall outside the set days that the ticket applies to.
c. Restrict access to specific talks - the specific session might not be included in the ticket.
d. Restrict access to specific categories - the category/categories the ticket applies to does/do not contain the session in question.
If you haven't entered anything in these fields, i.e. left them blank, you don't need to worry as the ticket won't be restricted in these ways.
You can see these settings under Revenue > Tickets then choosing the ticket you created by clicking the three dots (...) and selecting Edit Record: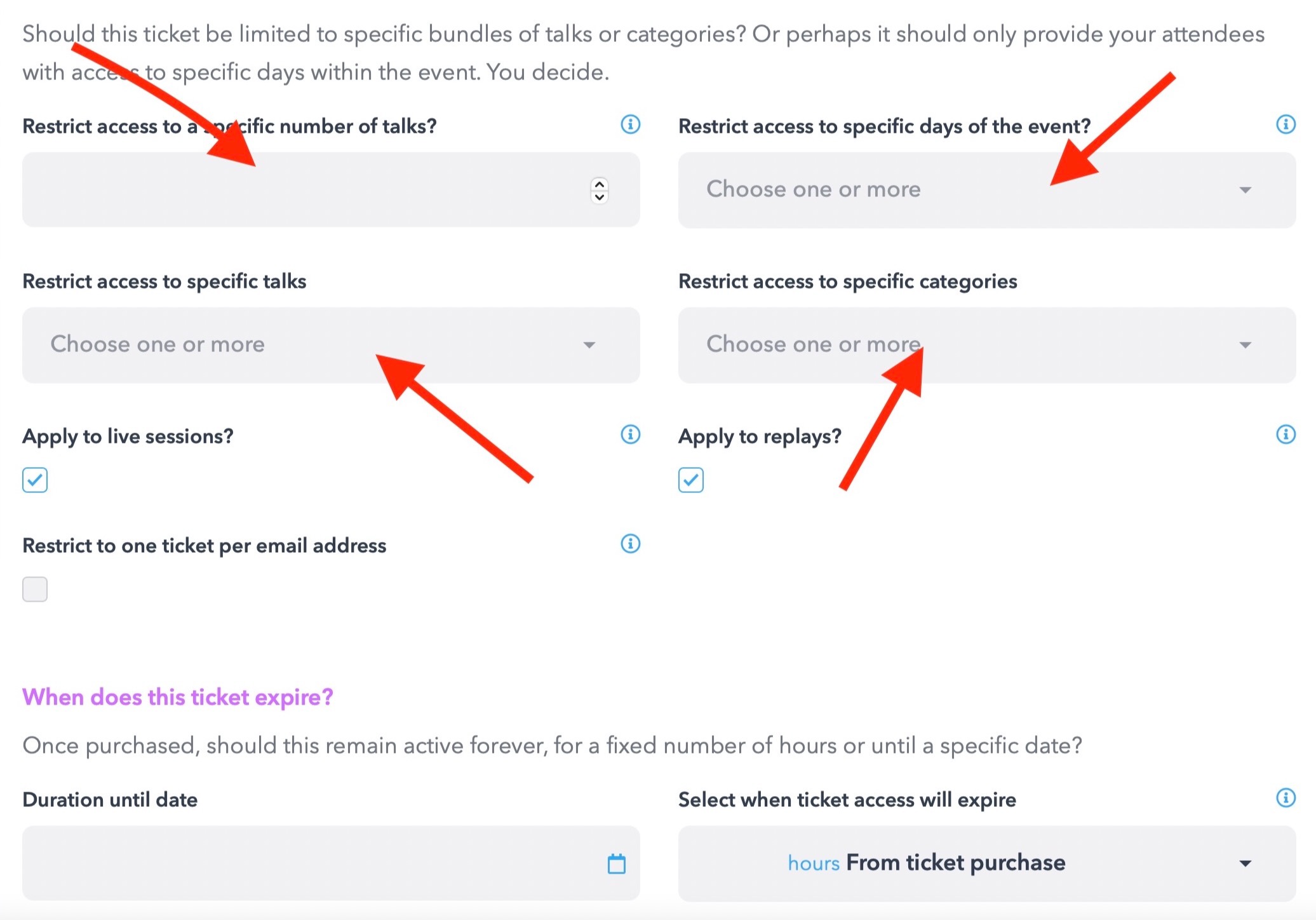 5. They own a ticket with old permissions
You're looking at your ticket settings and you're confident that they should be able to access Replay content, but they still can't. This could happen if you changed the ticket permissions and didn't sync the changes to all purchases. Changes you make to tickets aren't automatically synced if you un-ticked the 'Synchronize after save?' option (see screenshot below).
If you don't synchronize your changes to all tickets, only new attendees (those who purchase the ticket after you had made changes) would own the most up-to-date permissions.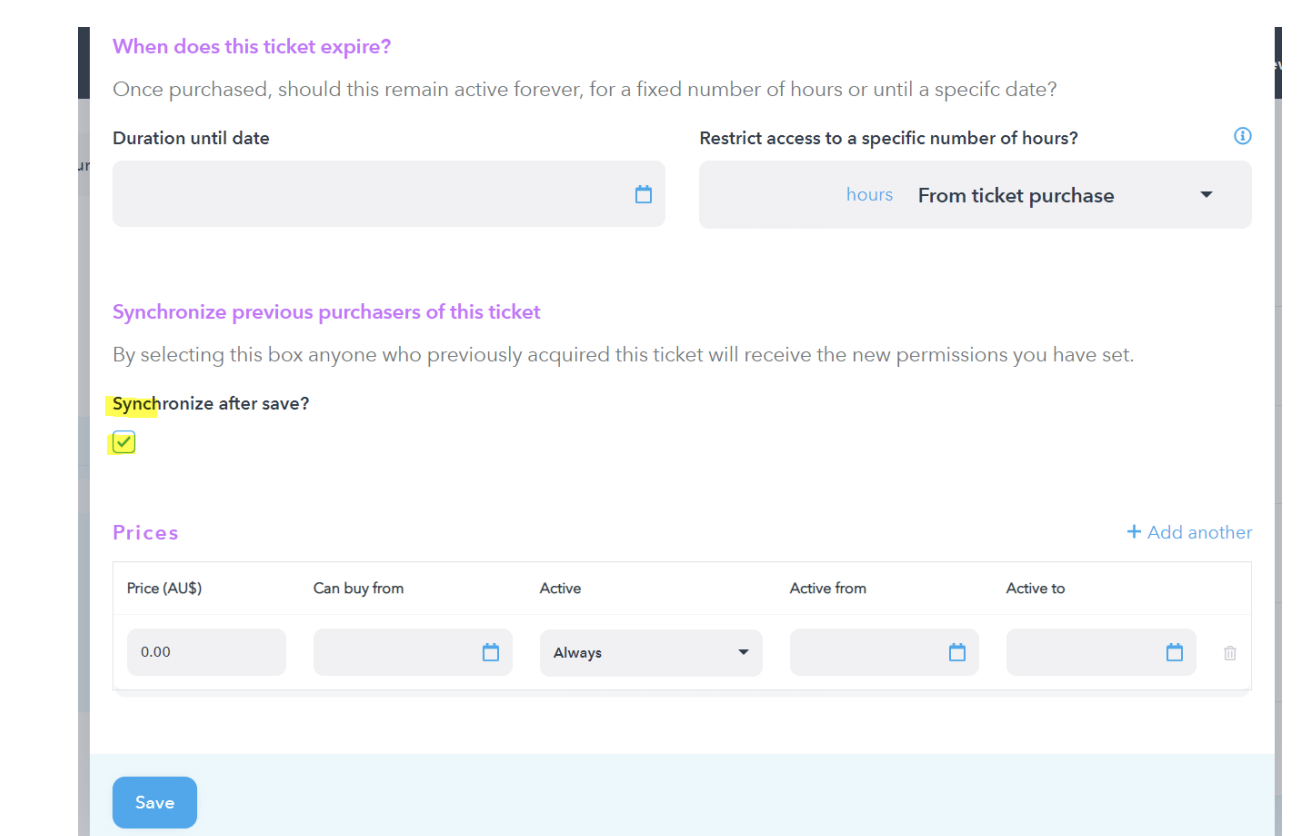 Now that you've discovered why the attendee's ticket doesn't allow access, you have two options:
a. Edit your tickets so that your attendee can access Replays with the ticket they already own
You can edit the restrictions of the ticket and sync it (Revenue > Tickets > ... > Sync Settings to Purchases) so existing ticket holders have these edited permissions to access Replays.
b. Ask your attendee to purchase another ticket with the appropriate permissions
If you're happy with your ticket setup and want this ticket that the attendee holds to remain restricted, you can ask them to buy another pass if they're interested in Replays. Make sure that one of your available tickets does allow Replays. Here's a handy help doc on upgrading tickets.
6. Is The Replay Active?
If the attendee definitely has a ticket that allows access to Replays and this has been synced, another possibility is that the talk has been set as inactive under Content > Talks.
To make a Replay active, go to Content > Talks. Click the ... on the replay session you want to look at, then select Replay Details and check Make replay Active?. Make sure to Save after making this change.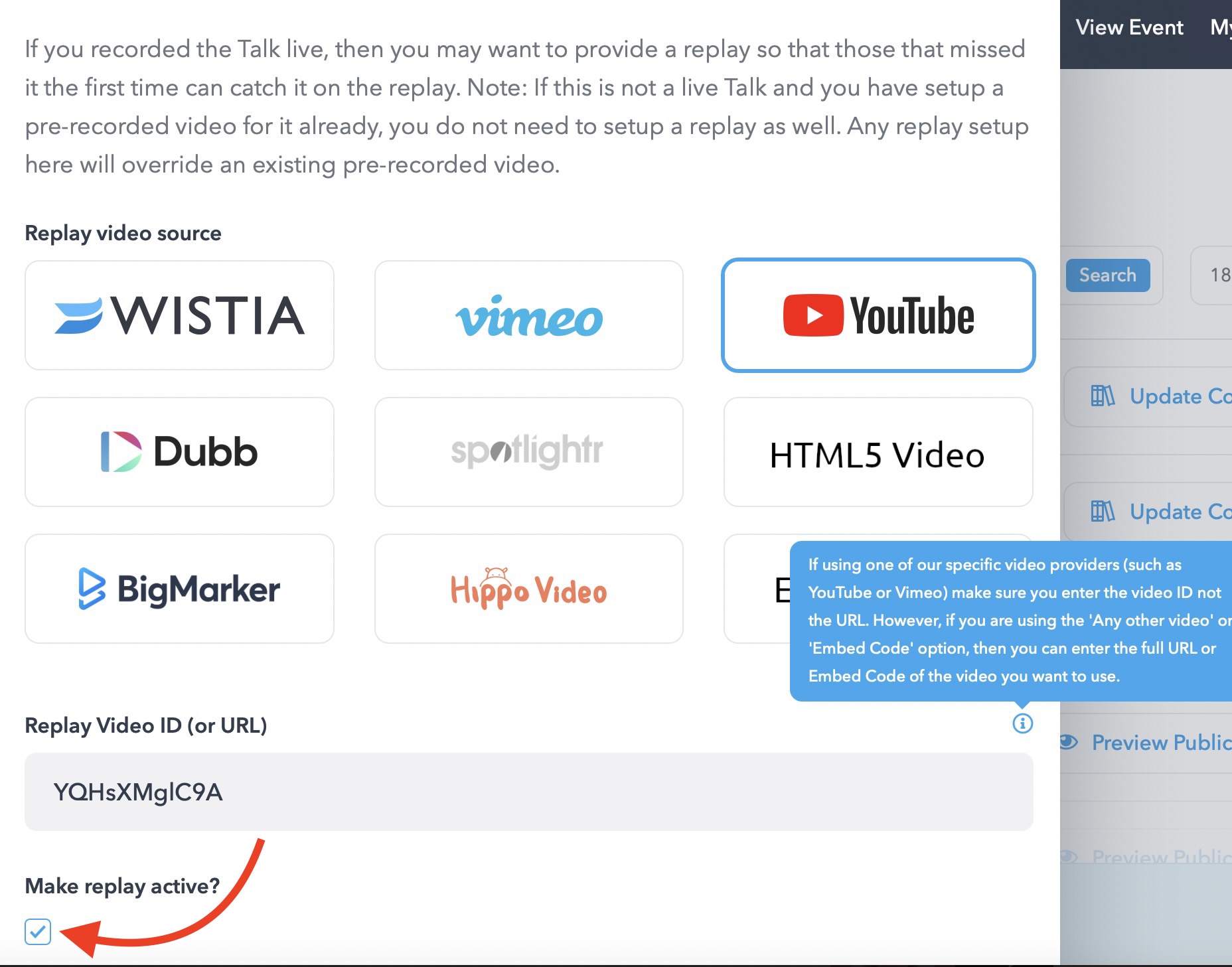 7. Has your session expired or been made unavailable?
You can set your Replays to become unavailable after a certain number of days. This would affect the ability to view the replay outside of that date range.
If you want to make the talk available for longer, go to Content > Talks. Click the ... next to the talk you wish to edit then Edit Record. Look under Make Unavailable After X Number Of Days?. If the session is now unavailable because of what you previously entered here, you could delete what's there and leave it blank or increase the number of days and press Save.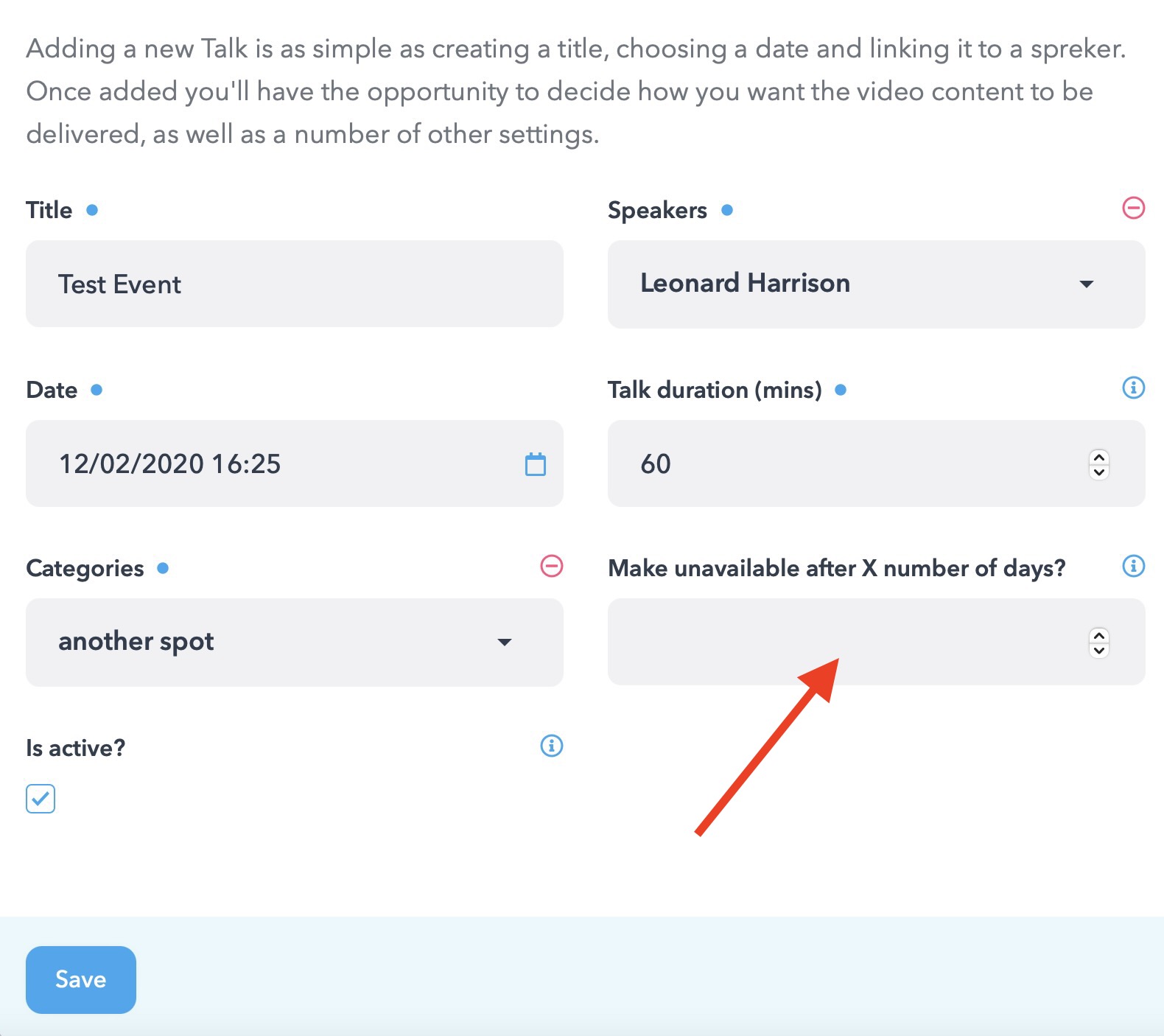 8. Do you have the correct link/ URL in the Dashboard?
Your attendee shouldn't see this error (screenshotted below) if everything is set-up correctly in your Replay Details (under Content > Talks). Don't forget, you can preview any of your Replay content by clicking on Preview Public Page. Note that the Video Settings option disappears once the Session goes live and is replaced with the Replay Details option.
This is particularly important for organizers who use our Live Session (i.e. native webinar integration) or Custom Stream option, since this would mean you would have to add your own recording of the live session (unless using BigMarker). This article on how to add a Replay may be helpful.
If you use a Pre-Recorded delivery method, these Replay fields will appear blank when it switches over into Replay mode and you don't have to add anything else in the fields. You can choose to enter details there however, if you want to use a different video or if it was configured incorrectly originally to override this.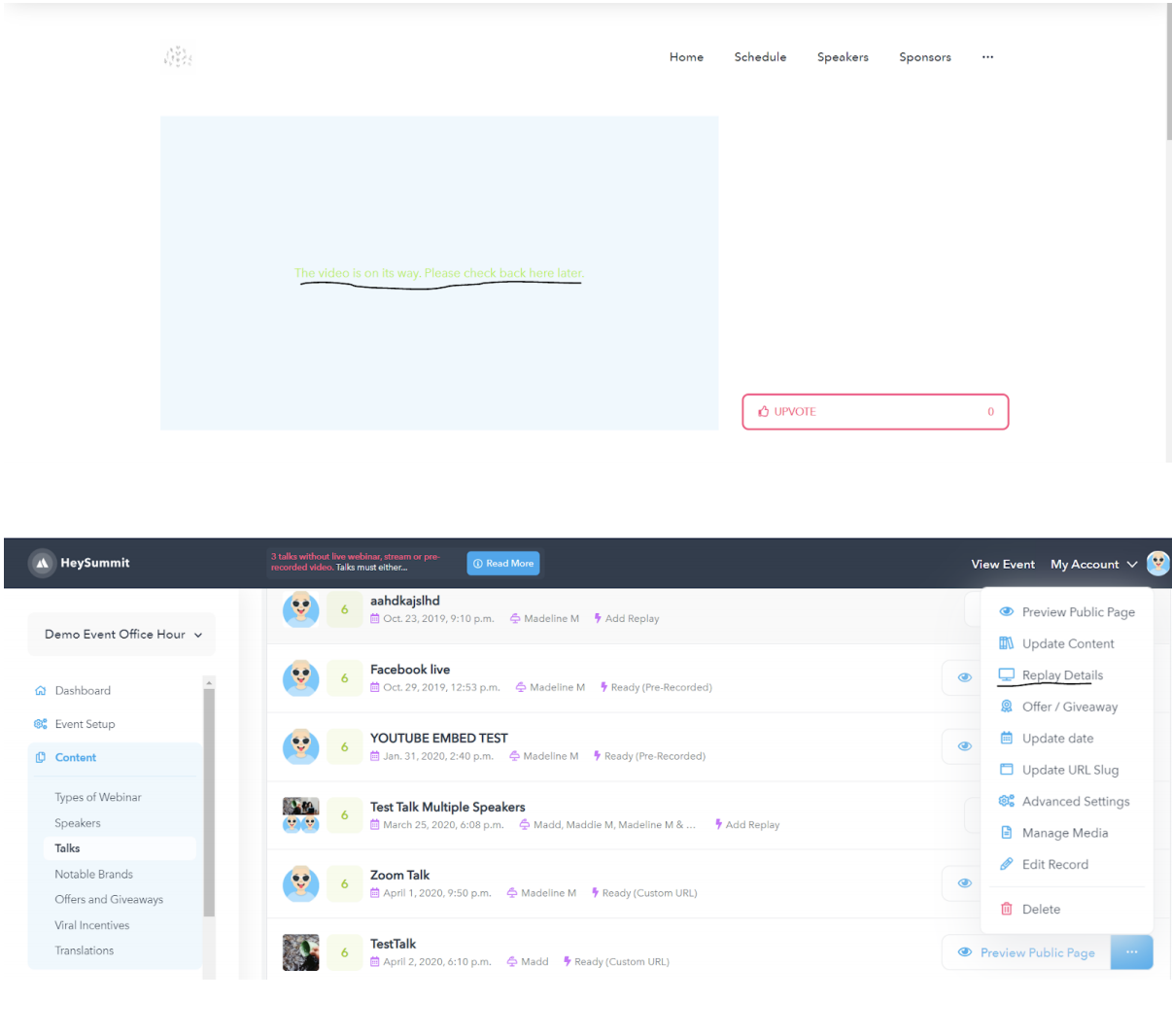 It's important to make sure that you've entered the right Video ID or URL in these settings. Please refer to this article for help.
9. Are your privacy settings configured on your video provider correctly?
It may be that your settings on your video provider platform are set to private or to not allow embedding. Check out this help doc on configuring YouTube videos for HeySummit, this one on Vimeo videos, and this one on Spotlightr. If you're using different provider, please check out their help docs for some information on this.
Still having issues? Send us a message with all the details (attendee email address, event name, steps you've taken so far) to support@heysummit.com.