Scenario
You want to embed a livestream into your summit. Great news - this is now possible with HeySummit!
Quick start
YouTube and Vimeo
Create a new livestream video on your chosen platform - YouTube or Vimeo.
Schedule a new talk on HeySummit as usual under Content > Talks.
Click on the '...' next to the talk you've just set up.
Choose Video Settings > Custom Stream.
Choose either Vimeo, YouTube.
If you've chosen Vimeo or Youtube, fill in the Video ID (not the full URL).
If you selected YouTube or Vimeo, you can choose to check the box Auto-embed Stream Chat. This way, the livestream chat is displayed under talk description, overriding the HeySummit chat or custom JavaScript (only before & during the streaming, when the replay is configured, it won't show).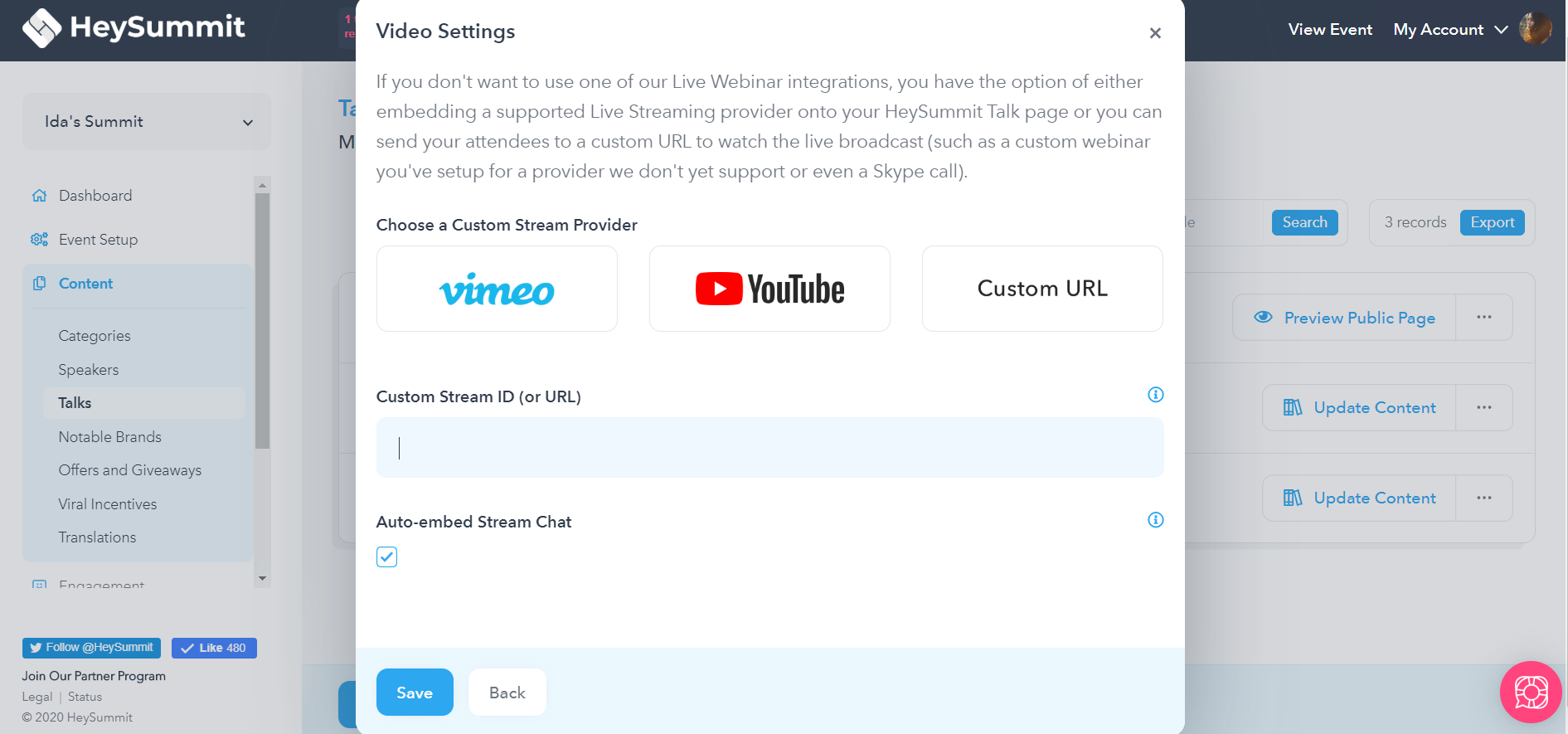 - To use Vimeo or Youtube LiveChat, make sure Comments are enabled for your event in Event Setup > Settings > Event Basics.

Other
You can also embed other types of livestreams.
Head to Content > Talks > ... > Video Settings > Pre-Recorded (even though the video will be live)
Click on Embed Code.
After creating your livestream in your provider, you'll be able to paste the embed code into the Pre-recorded video ID (or URL) field.
Press Save.
Note that unlike Native webinar integrations, Speakers won't be sent join links to these types of sessions by HeySummit. Make sure that you send Speakers their join links for live talks externally when using these options.
Check out the articles below for steps on setting up livestreams on LinkedIn Live, Twitch and Crowdcast.