Scenario
You're looking to collect some detailed feedback from your audience and think about running a survey for this. Now you want to know how this is possible on your HeySummit event.
Quick Start
You have a few options here. Check out the possibilities and think about what will suit your needs best.
Use HeySummit's inbuilt Engagement Questions feature.
These are designed to be low friction, high response, finger-on-the-pulse questions. Any feedback questions you set-up will be shown to attendees while the summit is live and they're logged in on the public event site. Head here to find out
how to set up Engagement Questions
.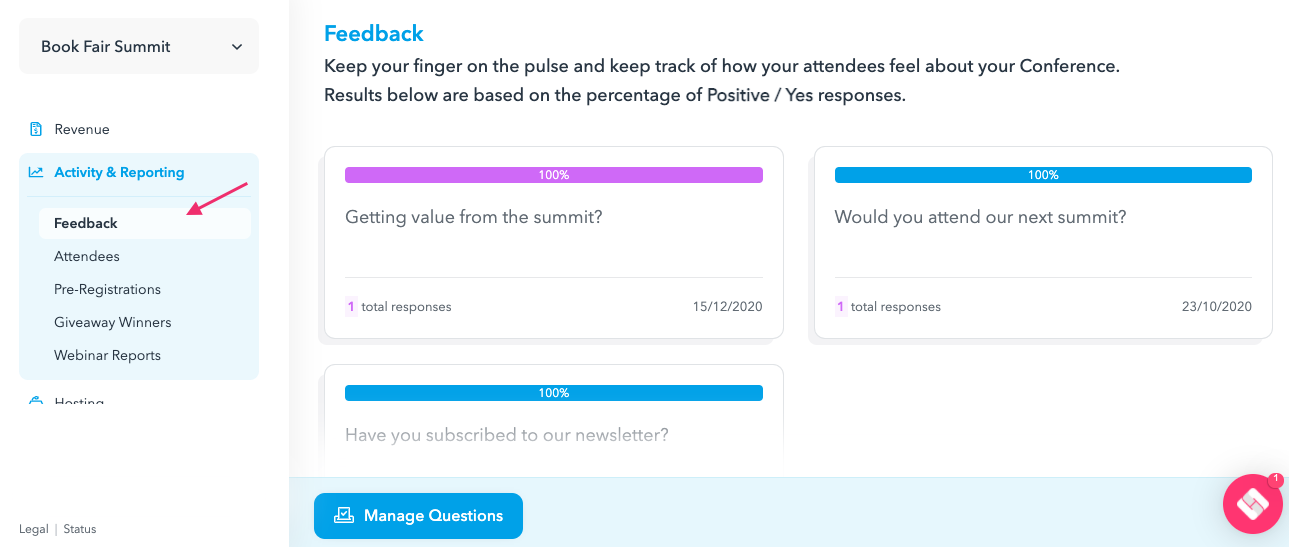 Top tip: Make sure you set up your questions in a yes/no format, as those are the only options your attendees have.
Note that if multiple questions are set up to be shown on same day, only one question shows up for an individual attendee.
Embed a survey you've made outside of HeySummit
There are many cool platforms out there that let you create your own survey with custom settings and design themes. Once you've found the one you like, you can embed this in HeySummit.
Create a survey with your chosen provider (make sure they provide an embed code before you whip it up - we'll need this later).
Head to a page on your public event site while logged in as an Event Organizer or Team Member that has an Edit Page button in the bottom left corner and click this.
Click on an +Add Component button in the center of the page.
Click on the HTML option.
Click on the Edit button of this new component.
Paste the embed code that the site where you created the survey gave you into the Content field and press Save.
You can click on Preview Page to take a look at your new survey.
Keep in mind if you embed a survey into a page of your event that isn't gated to allow ticket holders exclusively through, this survey will be accessible to all visitors to your site. Instead, you could create a custom Thank-You page that shows after a successful checkout and embed the survey there.
Create a custom Header Link
You could also choose to set up a new Header Link using the External URL option.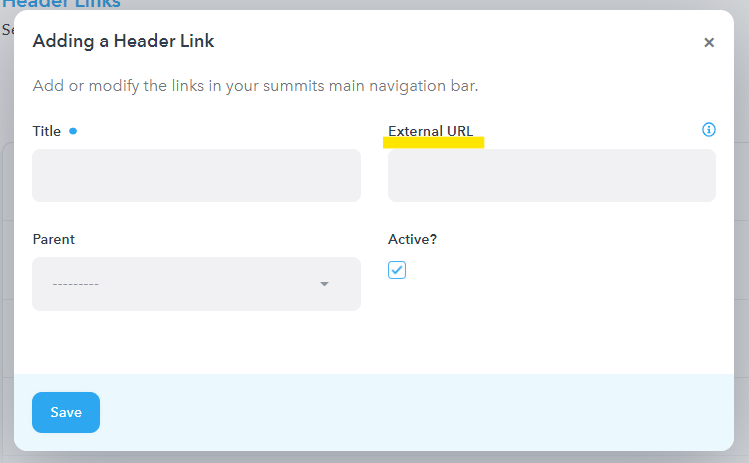 This means that when someone clicks on the Header while on your public event site, the link will open in a new tab outside of HeySummit. Remember that this isn't gated to allow exclusively ticket holders through - this survey will be accessible to all visitors to your site
Include a survey link in a session description
You can add a link using Markdown to the descriptions of specific sessions. Head to Content > Talks > ... > Update content to do so. This will show on the public event page before and after the session goes live. This will also be available for non-ticket holders to view and click on.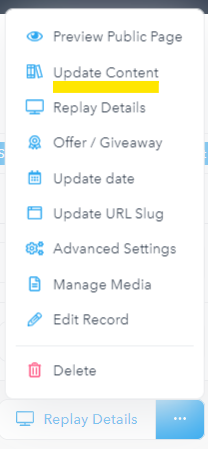 Include a survey link in all of your event emails
You can do this by adding the link to your email footers using Markdown.
Head to Event Setup > Email Templates > Settings.
Paste the share link to your survey in the field Email Footer Copy.
Press Save.
Include a survey link in one of your event emails
Looking to make your survey more private? After you've created a survey on an external site, you could choose to share it via one of your event emails on HeySummit. Check out a list of the emails we send here and how to customize emails to include a link here.
If you have Email attendees only if they have tickets? under Event Setup > Settings > Event Basics checked, then only ticket-holders will receive event post-registration and reminder emails. This means if you include a survey link in the "Your daily digest" or "Your replay links and exclusive offers", only those with a pass will be able to access and fill this in.