Scenario
You've noticed that there is a change in the numbers found on your event Dashboard under 'Email Unsubscribes' and you're keen to know exactly who, maybe to remove them from an external mailing list you have set up. You can do just that with the steps below.


Quick Start
Head to Activity & Reporting > Attendees.
Click on the blue Export button at the top right of your attendee list.
A message should appear at the top of the page saying "Success! We'll process your request and send a report to your email".

Check the inbox for the email address you were using when logged into HeySummit to make that request. It will be titled "Your export request was processed!". When you find the email, click on the download link within 24 hours of receipt.
The CSV file that you'll receive will have, among other things, attendee email addresses and columns for subscription status for offers, event info, speaker offers, talk reminders (10 minutes), and talk reminders (1 hour).



If it reads 'TRUE' under a column for an attendee, this means that they're still subscribed to this email type. If it reads 'FALSE', they decided to unsubscribe.
Attendees are automatically subscribed to all event emails initially. It's possible for them to unsubscribe from selected email types, or all, via the unsubscribe link found at the bottom of attendee emails. Note that Event Organizers cannot unsubscribe an attendee from the HeySummit mailing list themselves.
An attendee can re-subscribe by finding one of the past emails we have sent to them (if they've not deleted them) and clicking on the Unsubscribe link at the bottom once again so they get to this page: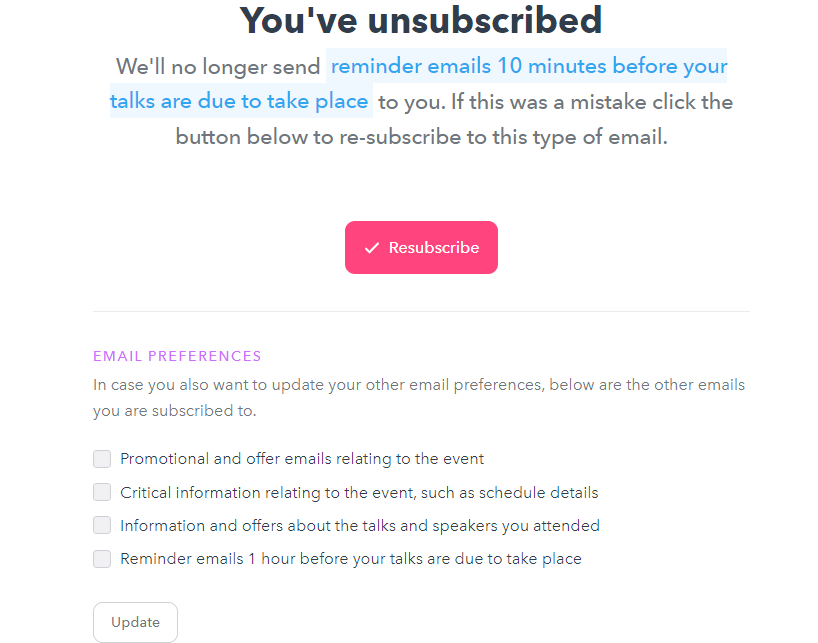 There they can hit "Resubscribe" and also check the boxes for the other emails, then click "Update".
Event organizers can also Unsubscribe/Resubscribe attendees from emails by heading to Reporting > Attendees. Click the "..." on one of your attendees and select 'Unsubscribe From Emails' and you should see this page where you can manage your attendees' email preferences.