Scenario
You want your attendees and speakers to have a chat about your amazing content while watching it on the HeySummit session page. If you're on the Business or Professional plan, you can do just that. This option is great for sessions where the video content will be embedded in the HeySummit session page, i.e. Pre-recorded content, YouTube Live or Vimeo Live, replays. If you enable this feature on a session that will be held on a webinar provider, the live chat won't appear on the HeySummit talk page until it's in replay mode.
Quick start
Click on Event Setup > Settings > Event Basics.
Make sure the Enable Live Chat feature? checkbox is filled and click Save. After you check this, it will take us a few minutes to connect things behind the scenes so that you can go onto the next step. Perfect time for a cup of tea or coffee.
We're not done yet - now we'll need to head to Content > Talks because we have to enable the chat feature on each session we'd like this to appear. Click on the three dots (...) next to the session record you want, then Advanced Settings.
Next we want to check the Enable Live Chat for this talk? setting here and click Save. Can't see this option yet? This is probably because you only recently completed Step 2. Wait a few minutes and look again.
Once you've selected and saved this in this area, the chat will appear on the session page immediately.
You'll need to complete Steps 3 and 4 for each session that you want the live chat feature to appear.
The live chat won't appear until the session starts at it's scheduled time and the talk page updates.
But what will this look like for our users on the session page? Here's a sneak peak: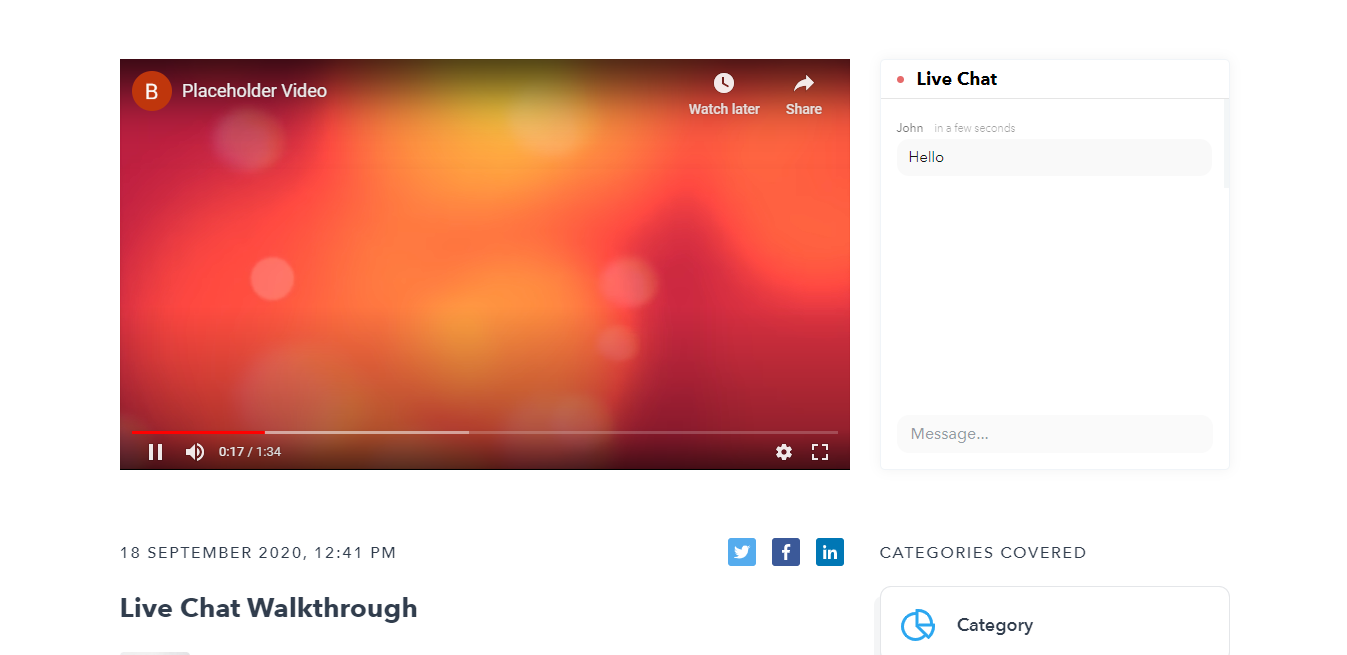 This chat section will remain after the page goes into replay mode. However, you can disable it any time you like by heading back to Content > Talks > ... > Advanced Settings and unchecking Enable chats.
Note that if comments are enabled for your event, they will appear on the session page too, below the embedded video, while the live chat is at the right of the video (if you have it enabled).
Only users logged in as attendees (with a ticket to the session), speakers of that session, or the event organizer will be able to view this live chat. The messages in the live chat section currently can't be threaded.
Unlike our comments feature, the live chat will show the first name of the attendee or speaker. The user roles (e.g. speaker, moderator) are labelled.
Banned users are also labelled, if you haven't chosen to delete all their previous messages. We've got a help doc on how to moderate the live chat feature if you're interested in learning more.
Looking to use an alternative to our comments or live chat feature? Check out our doc on setting up and testing a custom comments system if you're on the Business plan.