Scenario
Webex is a great tool that offers all kinds of meeting options, including Video Conferencing, Cloud Calling, and Team Collaboration. After creating the event meeting within Webex, you can use our Direct Link integration and use our Custom Stream URL option.
Quick Start
Schedule your session within Webex

After your meeting is scheduled,

Copy the Meeting Link.

Choose the session you are looking to use your webinar platform for. If you are looking to set up a session, select Content > Sessions.


On the right-hand side of the session, you want to connect, click the ... menu icon to display the available actions you can perform. Click on the Video Settings link.





On the next screen, you have 3 options for broadcasting the talk. When using your webinar platform, select the Custom Stream option.


Add the link to our Custom Stream option and select Custom URL.ol
Click Save, and you're all set.
When the session starts, your attendees will be redirected to Webex and asked to either download the Cisco Webex Meeting App or continue from their browser.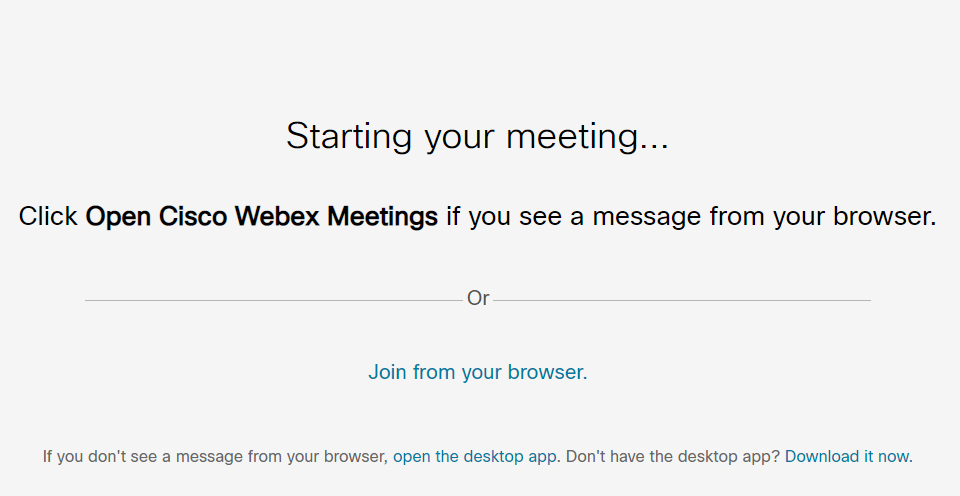 Please note, since this is not a Native integration, your HeySummit registrations won't sync with Webex. Your attendees will be redirected to the platform and will have to register to enter the session.
Things to note when using our Direct Link integration
Check the attendee flow: Your attendees will not be auto-registered for your session. This means your webinar provider might ask them for registration before joining the session. Check your session's settings if you'd like to turn this off.
Share the link with your Speakers: Before the session starts, make sure you send the link to your Speakers. As some webinar providers don't have Speakers, these emails don't get sent out automatically from HeySummit.
Check-in early: If you'd like a quick mic and camera check before the session starts, make sure you and your Speakers join before the session starts. You might even want to schedule the session 15 minutes early in Webex to complete these checks and go over any last-minute essentials!