You're familiar with Wistia and it's your video-hosting platform of choice for your business. So it's natural that you want to upload a Wistia video to your event as Pre-Recorded content. You've come to the right place!
Choose the talk you want to upload. If you are looking to set up a talk, select Content > Talk.
In the new window, click the Add Talk button located at the bottom of the screen, then choose your Speaker and enter the Talk Title, Date, and Time of the Talk, and finally, select at least one category. Ensure the date is set in the future. The time for the talk is set by clicking on the timepiece icon below the calendar.
Once that's done, return to your list of talks and identify the talk you just created. To return to this, click Content > Talks in the left sidebar.
On the right-hand side of the talk you want to edit, click the menu icon to display the available actions you can perform. Click on the Video Settings link.


On the next screen, you have 3 options for broadcasting the talk. When using Wistia, select the Pre-Recorded option.


Now, choose Wistia and enter the video ID in the box. In Wistia's case, this will be the video ID, like this URL, for example, https://support.wistia.com/medias/h1z3uqsjal will have a video ID of h1z3uqsjal.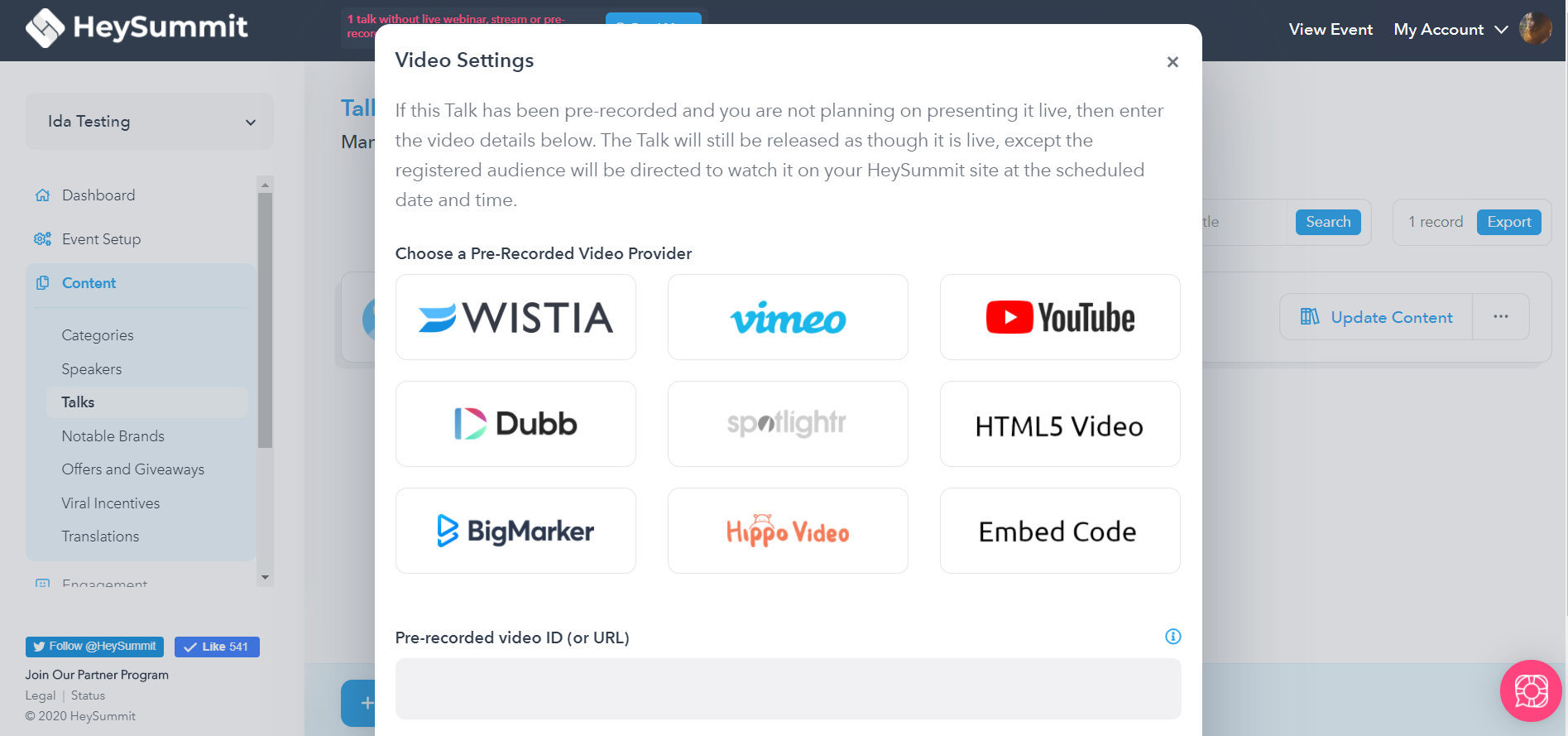 If you're setting up a Replay with Wistia:
Head to Content > Talks
Click on the three dots (...) next to your Talk
Click on Replay Details (this will only appear once your live talk started at its scheduled time)

Follow steps 6-9 above
Don't forget to preview your public page and check that the video is correct (view in Post mode to see the video).