Scenario
You're using Vimeo to upload your pre-recorded talks to your HeySummit page. However, you're having trouble getting your videos to play on HeySummit and want to make sure your privacy settings are right.
Quick start
We recommend the following privacy settings for your Vimeo videos that you want to show on HeySummit:
Who can watch? - 'Hide from vimeo.com'
Where can this be embedded? - 'heysummit.com'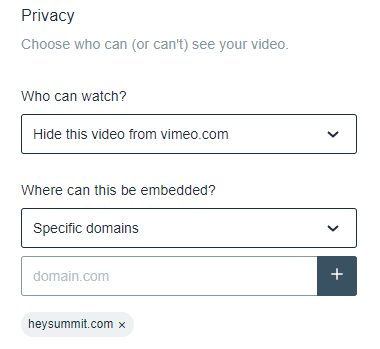 It's important that your embed settings aren't set to 'Nowhere' in Vimeo, or the video won't be able to play for your attendees on HeySummit.
Don't forget to check that the video is playing properly on HeySummit by previewing the session page. It might be that you have the wrong video ID or URL entered in your video settings or replay settings. Check out this help doc on finding the ID or URL for your video.
You're all set.